The Vermeer VX100XT AIR series of vacuum excavators are equipped with an air compressor and water pump combination providing jobsite options of both air and hydro excavation on demand. This series of vacuum excavators can be configured both in trailer or skid packages with spoil tank capacities from 500 to 1200 gallons to suit your job site requirements.
PATENTED HIGH LIFT "CAM-OVER" EXTERNAL HYDRAULIC DOOR
The McLaughlin patented "Cam-Over" hydraulic rear door leads the industry with this simple reliable design with all components being external to the tank. The design provides a consistent 360° seal and mechanical locking mechanism, to keep fluids securely in the debris tank even under reverse pressure.
THREE-STAGE CYCLONIC FILTRATION
Standard three-stage cyclonic filtration system, which allows the vacuum to be used for both wet and dry vacuum excavating where the cyclones reduce airborne particulates from reaching the final filter and vacuum blower. This system prolongs the filter life, reducing maintenance costs.
PATENTED IN TANK WASHDOWN
Delivers a high-pressure water spray to the tank interior helping simultaneously dump material and clean the inside of the tank, Saves clean up time and makes it easier to remove dificult debris.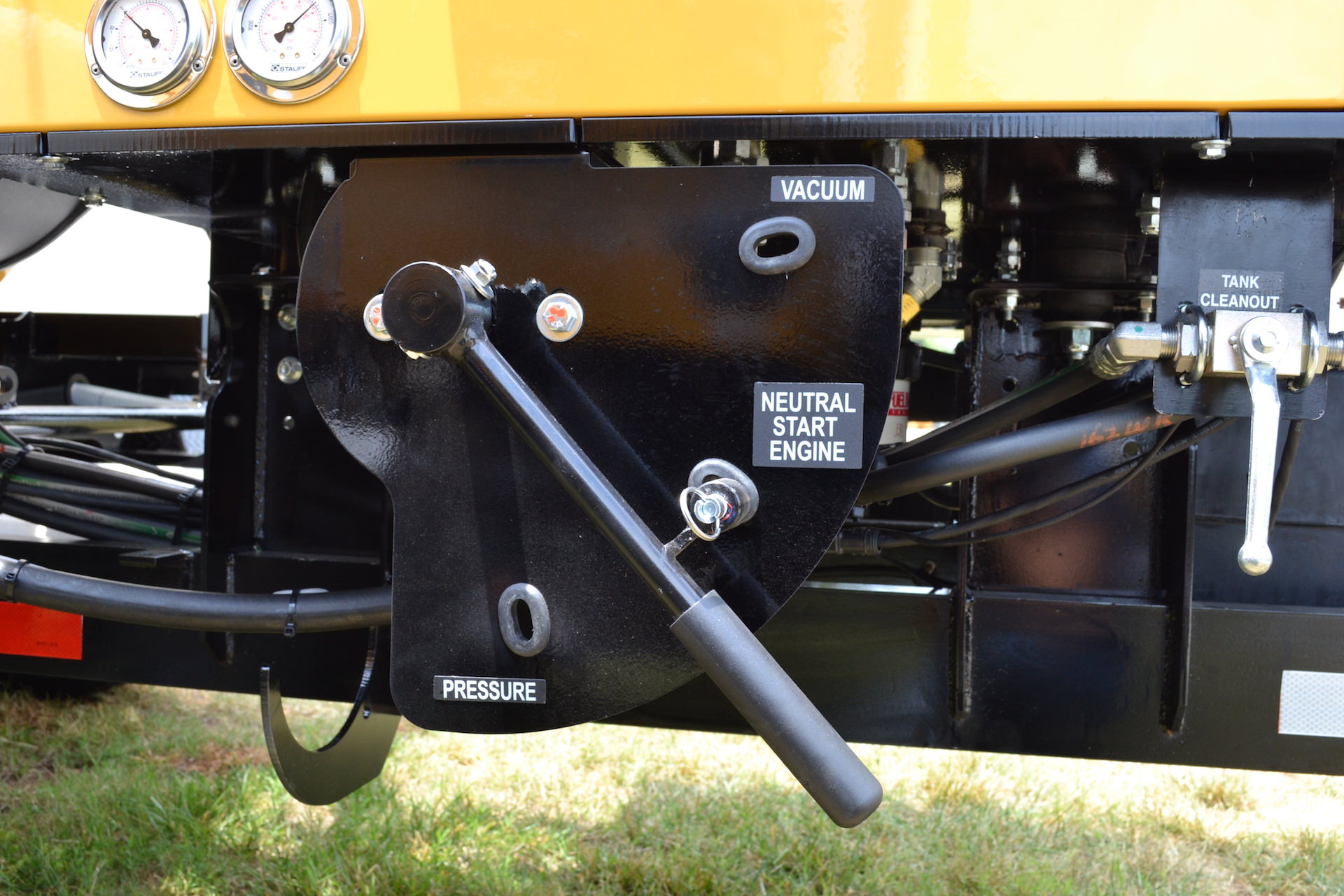 Reverse Flow
The Reverse Flow option allows for offloading liquids quickly and easily without opening the rear tank door.
Arrow Board
New light board with LED lights, brighter and lasts longer.
Hydraulic Boom
Exclusive telescoping boom maintains hose lenght during extension and incorporates a remote controlled hydraulic valve for vacuum shut off. Available with manual or hydraulic rotation.
General Dimensions and Weights - Trailer
| | | | | | | |
| --- | --- | --- | --- | --- | --- | --- |
|  VX100XT AIR Units |  VX100XT-500 AIR | VX100XT-800 AIR | VX100XT-1200 AIR | VSK100XT-500 AIR | VSK100XT-800 AIR | VSK100XT-1200 AIR |
|  Empty Weight |  8020 lb (3637.8 kg) |  11380 lb (5161.9 kg) | CALL |  NA |  NA |  NA |
|  Length |  232″ (589.3 cm) |  259″ (657.9 cm) |  289.8″ (736.1 cm) |  NA |  NA |  NA |
|  Width |  96″ (243.8 cm) |  102″ (259.1 cm) |  102.6″ (260.6 cm) |  NA |  NA |  NA |
|  Height |  94″ (238.8 cm) |  117″ (297.2 cm) |  109.9″ (279.1 cm) |  NA |  NA |  NA |
|  Brake Type |  ELECTRIC | ELECTRIC |  ELECTRIC |  NA |  NA |  NA |
|  Hitch Type |  PINTLE |  PINTLE |  PINTLE |  NA |  NA |  NA |
|  Weight (Gross Vehicle Weight) |  14000 lbs (6350.3 kg) |  24000 lbs (10886.2 kg) |  24000 lbs (10886.2 kg) |  NA |  NA |  NA |
|  Trailer Axles |  7000 lbs (3175.1 kg) |  12000 lbs (5443.1 kg) |  12000 lbs (5443.1 kg) |  NA |  NA |  NA |
Engine
| | | | | | | |
| --- | --- | --- | --- | --- | --- | --- |
|  VX100XT AIR Units |  VX100XT-500 AIR |  VX100XT-800 AIR | VX100XT-1200 AIR |  VSK100XT-500 AIR | VSK100XT-800 AIR | VSK100XT-1200 AIR |
|  Horsepower |  99 hp |  99 hp |  99 hp |  99 hp |  99 hp |  99 hp |
|  Enclosure |  SED AND LOCKABLE |  FULLY ENCLOSED AND LOCKABLE | |  FULLY ENCLOSED AND LOCKABLE | | |
|  Fuel Tank Capacity |  22/83.3 |  22/83.3 |  22/83.3 |  22/83.3 |  22/83.3 |  22/83.3 |
Water Tank
| | | | | | | |
| --- | --- | --- | --- | --- | --- | --- |
|  VX100XT AIR Units |  VX100XT-500 AIR |  VX100XT-800 AIR | VX100XT-1200 AIR |  VSK100XT-500 AIR | VSK100XT-800 AIR | VSK100XT-1200 AIR |
|  Water Tank Capacity |  250 gal (946.4 L) |  250 gal (946.4 L) |  410 gal (1552 L) | 250 gal (946.4 L) |  250 gal (946.4 L) | 410 gal (1552 L) |
|  Number of Tanks |  2-125/473.2 |  2-125/473.2 |  2-205/776 |  2-125/473.2 |  2-205/776 |  2-205/776 |
|  High Pressure Pump: Flow Rate |  5.6 gpm (21.2 L/min) |   5.6 gpm (21.2 L/min) |   5.6 gpm (21.2 L/min) |   5.6 gpm (21.2 L/min) |   5.6 gpm (21.2 L/min) |   5.6 gpm (21.2 L/min) |
|  High Pressure Pump: Pressure |  3000 | 3000 | 3000 | 3000 | 3000 | 3000 |
|  High Pressure Hose Length |  50′ (15.2 m) |  50′ (15.2 m) |  50′ (15.2 m) |  50′ (15.2 m) |  50′ (15.2 m) |  50′ (15.2 m) |
| Low Water Shutoff |  ELECTRONIC |  ELECTRONIC |  ELECTRONIC |  ELECTRONIC |  ELECTRONIC |  ELECTRONIC |
Spoil Tank
| | | | | | | |
| --- | --- | --- | --- | --- | --- | --- |
|  VX100XT AIR Units |  VX100XT-500 AIR |  VX100XT-800 AIR | VX100XT-1200 AIR |  VSK100XT-500 AIR | VSK100XT-800 AIR | VSK100XT-1200 AIR |
|  Spoil Tank Capacity |  500 gal (1892.7 L) |  800 gal (3028.3 L) |  1200 gal (4542.5 L) |   500 gal (1892.7 L) |   800 gal (3028.3 L) |  1200 gal (4542.5 L) |
|  Door type |  HYDRAULIC |  HYDRAULIC |  HYDRAULIC |  HYDRAULIC |  HYDRAULIC |  HYDRAULIC |
|  In Tank Washdown |  STANDARD |  STANDARD |  STANDARD |  STANDARD |  STANDARD |  STANDARD |
|  Mechanical full tank shut off |  STANDARD |  STANDARD |  STANDARD |  STANDARD |  STANDARD |  STANDARD |
|  Electric full tank shut off |  STANDARD |  STANDARD |  STANDARD |  STANDARD |  STANDARD |  STANDARD |
|  Tank Lift Type |  DUAL CYL |  DUAL CYL |  DUAL CYL |  DUAL CYL |  DUAL CYL |  DUAL CYL |
Vacuum
| | | | | | | |
| --- | --- | --- | --- | --- | --- | --- |
|  VX100XT AIR Units |  VX100XT-500 AIR |  VX100XT-800 AIR |  VX100XT-1200 AIR |  VSK100XT-500 AIR | VSK100XT-800 AIR | VSK100XT-1200 AIR |
|  Type of Filters |  2 MICRON WASHABLE | 2 MICRON WASHABLE |  2 MICRON WASHABLE | 2 MICRON WASHABLE |  2 MICRON WASHABLE | 2 MICRON WASHABLE |
|  Cyclonic filtration system |  STANDARD |  STANDARD |  STANDARD |  STANDARD |  STANDARD |  STANDARD |
|  Hose Length |  3-10′ (3.04 m) |  3-10′ (3.04 m) |  3-10′ (3.04 m) |  3-10′ (3.04 m) |  3-10′ (3.04 m) |  3-10′ (3.04 m) |
|  Hose Width |  4″ (10.2 cm) |  4″ (10.2 cm) |  4″ (10.2 cm) |  4″ (10.2 cm) |  4″ (10.2 cm) |  4″ (10.2 cm) |
|  Vacuum Hg Mercury |  15 |  15 |  15 |  15 |  15 |  15 |
|  Vacuum cfm |  1200 |  1200 |  1200 |  1200 |  1200 |  1200 |
|  Suction Hose Storage |  STANDARD |  STANDARD |  STANDARD |  STANDARD |  STANDARD |  STANDARD |
Control Panel
| | | | | | | |
| --- | --- | --- | --- | --- | --- | --- |
|  VX100XT AIR Units |  VX100XT-500 AIR |  VX100XT-800 AIR |  VX100XT-1200 AIR |  VSK100XT-500 AIR | VSK100XT-800 AIR | VSK100XT-1200 AIR |
|  Gauges |  PRESSURE AND COMPRESSOR TEMPERATURE |  PRESSURE AND COMPRESSOR TEMPERATURE |  PRESSURE AND COMPRESSOR TEMPERATURE |  PRESSURE AND COMPRESSOR TEMPERATURE |  PRESSURE AND COMPRESSOR TEMPERATURE |  PRESSURE AND COMPRESSOR TEMPERATURE |
Boom
| | | | | | | |
| --- | --- | --- | --- | --- | --- | --- |
| VX100XT AIR Units |  VX100XT-500 AIR |  VX100XT-800 AIR |  VX100XT-1200 AIR | VSK100XT-500 AIR | VSK100XT-800 AIR | VSK100XT-1200 AIR |
|  Reach |  14′ (4.3 m) |  14′ (4.3 m) |  14′ (4.3 m) |  14′ (4.3 m) |  14′ (4.3 m) |  14′ (4.3 m) |
|  Movement |  270 DEGREE ROTATION |  270 DEGREE ROTATION |  270 DEGREE ROTATION |  270 DEGREE ROTATION |  270 DEGREE ROTATION |  270 DEGREE ROTATION |
|  Remote Control |  WIRELESS |  WIRELESS |  WIRELESS |  WIRELESS |  WIRELESS |  WIRELESS |
Available Options
| | | | | | | |
| --- | --- | --- | --- | --- | --- | --- |
|  VX100XT AIR Units |  VX100XT-500 AIR |  VX100XT-800 AIR | VX100XT-1200 AIR | VSK100XT-500 AIR | VSK100XT-800 AIR | VSK100XT-1200 AIR |
|  Pressure offloading (reverse flow) |  OPTIONAL |  OPTIONAL |  OPTIONAL |  OPTIONAL |  OPTIONAL |  OPTIONAL |
|  Strong Arm (manual boom) |  YES |  YES |  YES |  YES |  YES |  YES |
|  Hydraulic Boom |  YES |  YES | YES |  YES |  YES |  YES |
|  Hot Box water heater |  YES |  YES |  YES |  YES |  YES |  YES |
|  Air Compressor |  STANDARD |  STANDARD |  STANDARD |  STANDARD |  STANDARD |  STANDARD |
|  Additional Fresh water options |  YES |  YES |  YES |  YES |  YES |  YES |
|  Sewer Jetter |  YES |  YES |  YES |  YES |  YES |  YES |
|  Compact Core Drill |  YES |  YES |  YES |  YES |  YES |  YES |