All VX75 vacs include 3 stage filtration using cyclonic separator and 2 micron poly filter, cam-over full open external hydraulic door with separate door/tank raise circuit, In Tank Clean Out System, full debris tank electronic float shut down and secondary ball float shut off, 22 gallon fuel tank, 50' water hose with reel, three 10' x 4" vacuum hose, rotary digging lance, wash wand.
PATENTED HIGH LIFT "CAM-OVER" EXTERNAL HYDRAULIC DOOR
The McLaughlin patented "Cam-Over" hydraulic rear door leads the industry with this simple reliable design with all components being external to the tank. The design provides a consistent 360° seal and mechanical locking mechanism, to keep fluids securely in the debris tank even under reverse pressure.
THREE-STAGE CYCLONIC FILTRATION
Standard three-stage cyclonic filtration system, which allows the vacuum to be used for both wet and dry vacuum excavating where the cyclones reduce airborne particulates from reaching the final filter and vacuum blower. This system prolongs the filter life, reducing maintenance costs.
CONVENIENT & EASY TO USE
The VX70 and VX80 series features a built-in patented In-Tank clean out flushing system, and an easily accessible operator control panel, these vacuum excavators were designed for ease of use and serviceability. All of the daily service points are also readily accessible around the machine.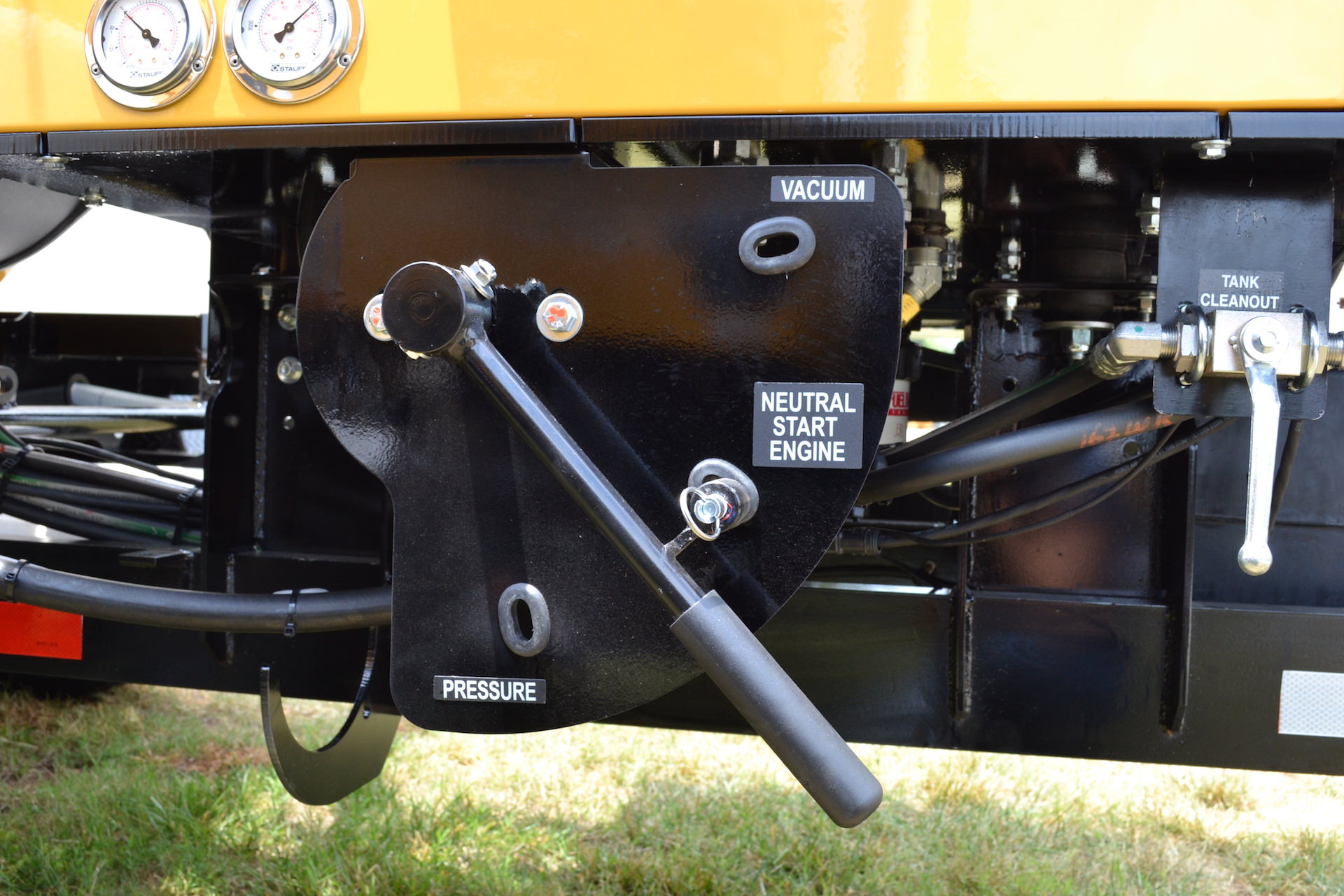 FAST & EFFICIENT -OPTIONAL
Optional reverse flow on the VX70 and VX80 series keeps your work moving forward with the ability to offload spoil faster and clear hose clogs quickly. Simply reverse the airflow by changing the valve position for positive tank pressure.
Hydraulic Boom
The industry-leading Hydraulic Boom offers speed, reliability and ease of operation.
Hot Box
The Hot Box option allows you to work with water heated up to 165 degrees F to improve digging in conditions such as frost.
Sewer Jetter
The J12-30 Sewer Jetting system turns your vacuum system into a versatile jetter/vac combination unit.
General Dimensions and Weights
| | | | | | | |
| --- | --- | --- | --- | --- | --- | --- |
| |  VX75-500 |  VX75-800 | VX75-1200 | | | |
|  Length |  232″ (589 cm) |  265″ (673 cm) |  259″ (658 cm) | | | |
|  Height |  94″ (239 cm) |  97.2″ (247 cm) |  113″ (287 cm) | | | |
|  Empty Weight |  7,130 lbs (3,234 kg) |  9,590 lbs (4,350 kg) |  12,390 lbs (5,620 kg) | | | |
|  Width |  96″ (244 cm) |  97.2″ (247 cm) |  102″ (259 cm) | | | |
|  Weight (Gross Vehicle Weight) |  14,000 lbs (6,350.1 kg) |  18,000 lbs (8,164.7 kg) |  26,000 lbs (11,793.4 kg) | | | |
Engine
| | | | | | | |
| --- | --- | --- | --- | --- | --- | --- |
| |  VX75-500 |  VX75-800 |  VX75-1200 | | | |
|  Horsepower |  74 hp (55 kW) |  74 hp (55 kW) |  74 hp (55 kW) | | | |
|  Eclsoure |  Fully with Lockable Doors |  Fully with Lockable Doors |  Fully with Lockable Doors | | | |
|  Fuel Tank Capacity |  22 gal (83 L) |  22 gal (83 L) |  22 gal (83 L) | | | |
Water Tank
| | | | | | | |
| --- | --- | --- | --- | --- | --- | --- |
| |  VX75-500 |  VX75-800 |  VX75-1200 | | | |
|  Water Tank Capacity |  250 gal |  408 gal |  408 gal | | | |
|  Number of Tanks |  2-125 |  2-205 |  2-205 | | | |
|  High Pressure Pump: Flow Rate |  8 gpm (30.0 L/min) |  8 gpm (30.0 L/min) |  8 gpm (30.0 L/min) | | | |
|  High Pressure Pump: Pressure |  3,000 psi (207 bar) |  3,000 psi (207 bar) |  3,000 psi (207 bar) | | | |
|  High Pressure Hose Length |  50′ (15m) |  50′ (15m) |  50′ (15m) | | | |
|  Low Water Shutoff |  Electric |  Electric |  Electric | | | |
Spoil Tank
| | | | | | | |
| --- | --- | --- | --- | --- | --- | --- |
| |  VX75-500 |  VX75-800 |  VX75-1200 | | | |
| Spoil Tank Capacity |  500 gal |  800 gal |  1200 gal | | | |
| Door Type |  Hydraulic |  Hydraulic |  Hydraulic | | | |
| In Tank Washdown |  Standard |  Standard |  Standard | | | |
| Mechanical Full Tank Shutoff |  Mechanical Float/Electric Shutdown |  Mechanical Float/Electric Shutdown |  Mechanical Float/Electric Shutdown | | | |
| Electric Full Tank Shutoff |  Standard |  Standard |  Standard | | | |
| Tank Lift Type |  Dual Hydraulic Cyl | Dual Hydraulic Cyl | Dual Hydraulic Cyl | | | |
Vacuum
| | | | | | | |
| --- | --- | --- | --- | --- | --- | --- |
| |  VX75-500 |  VX75-800 |  VX75-1200 | | | |
|  Type of Filters |  2 Micron Washable |  2 Micron Washable |  2 Micron Washable | | | |
|  3-Stage Cyclonic Filtration System |  Standard |  Standard |  Standard | | | |
|  Hose Length |  3–10′ (3.04 m) |  3–10′ (3.04 m) |  3–10′ (3.04 m) | | | |
|  Hose Width |  5″ (12.7 cm) |  5″ (12.7 cm) |  5″ (12.7 cm) | | | |
|  Vacuum Hg Mercury |  15 hg (.5 bar) |  15 hg (.5 bar) |  15 hg (.5 bar) | | | |
|  Vacuum cfm |  1,200 cfm (34 m3/min) |  1,200 cfm (34 m3/min) |  1,200 cfm (34 m3/min) | | | |
|  Suction Hose Storage |  Standard |  Standard |  Standard | | | |
Control Panel
| | | | | | | |
| --- | --- | --- | --- | --- | --- | --- |
| |  VX75-500 |  VX75-800 |  VX75-1200 | | | |
| Gauges |  Vac & Wat |  Vac & Wat |  Vac & Wat | | | |
Boom
| | | | | | | |
| --- | --- | --- | --- | --- | --- | --- |
| |  VX80-500 |  VX80-800 |  VX80-1200 | | | |
|  Reach |  14′ |  14′ |  14′ | | | |
|  Movement |  270 Degree Rotation |  270 Degree Rotation |  270 Degree Rotation | | | |
|  Remote Control |  Wireless |  Wireless |  Wireless | | | |
Available Options
| | | | | | | |
| --- | --- | --- | --- | --- | --- | --- |
| |  VX75-500 |  VX75-800 |  VX75-1200 | | | |
|  Reverse Flow |  Yes |  Yes |  Yes | | | |
|  Hydraulic Boom (Manual or Hydraulic Rotation) |  Yes |  Yes |  Yes | | | |
|  Hot Box Water Heater |  Yes |  Yes |  Yes | | | |
|  Air Compressor |  Yes |  Yes |  Yes | | | |
|  Sewer Jetter |  Yes |  Yes |  Yes | | | |
|  Compact Core Saw |  N/A |  N/A |  N/A | | | |
| | | | | | | |