The VXT8 series of MEGA VACS is designed for contractors focused on fast, safe and reliable Vacuum excavation from job sites to dumpsites. The VXT8 series is available in an 8 yard spoil tank capacity. Meet project deadlines using the productive 6" PTO Driven MEGA VAC with 3,500 "free air" cfm (99.1 m3/min) and capable of 18" of mercury.
Industry Leading Support
Vermeer MV Solutions products are sold and serviced by a network of local Vermeer dealers who have parts, road service trucks and highly trained technicians.
3-STAGE CYCLONIC FILTRATION
Designed specifically for 3,500 "free air" cfm (99.1 m3/min) blower systems, this unique filtration system allows for wet or dry vacuum excavation, while prolonging filter life and keeping maintenance costs low.
PATENTED "CAM-OVER" HYDRAULIC REAR DOOR
Provides a 360-degree positive seal, without additional clamping requirements. The highly reliable cam-over design has no in-tank moving parts, so all maintenance is external.
CAN CONTROLS: FULL-FUNCTION REMOTE CONTROL
The Magnetek  Mini-MBT radio remote controls all machine functions and delivers vital machine information through its display. The remote easily straps to the operator, and features an emergency stop.  Includes Vacuum Neutral Mode where air is able to run and circulate through the blower without suction or vacuum in the tank, allowing engine and blower to "unload" or free run when not in use to prolong the blower and engine life.
LARGER HOSE DIAMETER
The 6-inch (15.2 cm) , with a 3,500 "free air" cfm (99.1 m3/min) blower and 18 inches of hg (.6 bar), gets more work done and lets you take on bigger jobs.
AIRWEIGH SCALE
Provides a second level of security, and clear visibility into what each load is weighing.  "Hit the sweet spot". Most possible money, least possible risk!. Air Weigh Scale tied into control system – and programmed to provide operator feedback when load limits are reached.
*Scales are subject to calibration and verification by the equipment owner.
PRODUCTIVE 6″ TELESCOPING HYDRAULIC BOOM
Exclusive 19 foot telescoping boom maintains hose length during extension, provides 270 degrees of rotation and incorporates a remote controlled hydraulic valve for vacuum shut off.
OMSI GEARBOX
OMSI air-shift transfer case is a proven design used throughout the industry to provide the power of the engine to all vacuum components for maximum efficiency and power.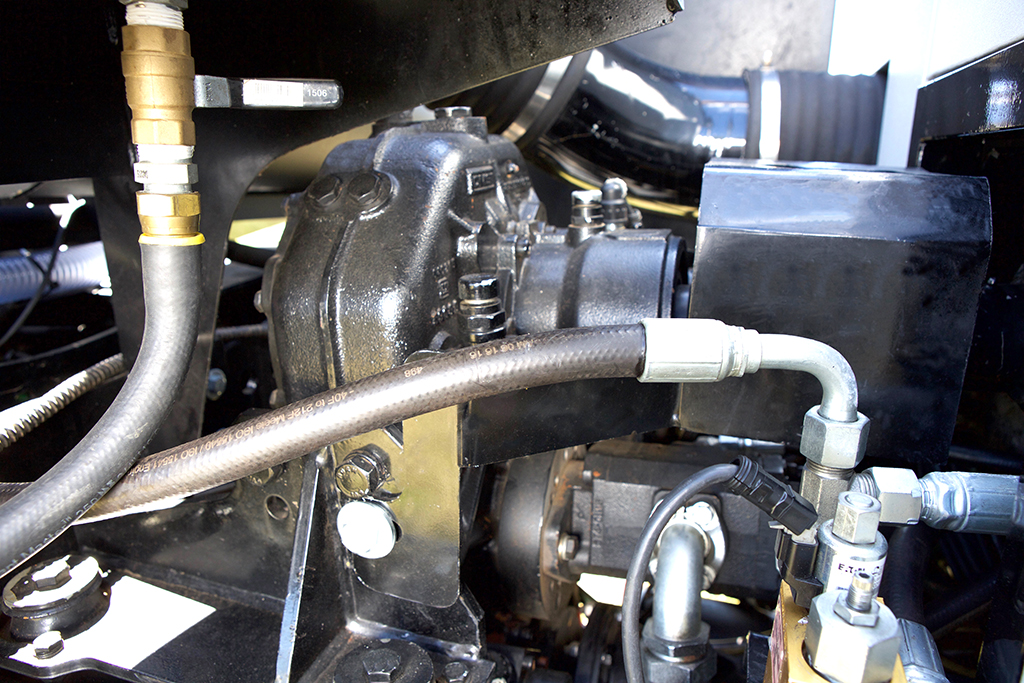 The industry-leading Hydraulic Boom offers speed, reliability and ease of operation. The telescoping design maintains hose length during boom extension and incorporates a 14″ (35.6 cm) bearing with a 270-degree range of motion. The boom features a 19′ (5.8 m) reach capability.
The Hot Box option allows you to work with water heated up to 165 degrees F to improve digging in conditions such as frost.
General Dimensions & Weights
| | |
| --- | --- |
|  Length |  389″ (987.63 cm) |
|  Height w/boom |  155″ (393.70 cm) |
|  Width |  102″ (259.08 cm) |
|  Wheel Base |  273″ (693.42 cm) |
|  Cab to Tandem |  203″ (515.62 cm) |
Peterbilt 348 Truck Specifications
| | |
| --- | --- |
|  Engine Model |  PACCAR PX 9 |
|  Engine |  350 HP @ 1,000 ft/lb torque |
|  Transmission |  3000RDS Allison 6-Speed Automatic |
Weights -VXT8
| | |
| --- | --- |
|  GVWR | 74,600 lbs |
|  Dry Weight |  32,500 lbs |
|  Steer Axle | 14,600 lbs |
|  Rear Axle |  40,000 lbs |
|  Pusher Axle |  20,000 lbs |
Water Tanks
| | |
| --- | --- |
| | |
|  VXT8 |  600 gal |
|  Water Pump |  10 gpm @ 3,000 psi (37.9 L/min @ 206.8 bar) |
|  High Pressure Hose Length |  50′ (15.2m) |
|  Low Water Shutoff |  Electronic |
Spoil Tank
| | |
| --- | --- |
|  Spoil Tank Capacity |  VXT8 = 1,600 gal |
|  Door Type |  Hydraulic |
|  In Tank Washdown |  Standard |
|  Mechanical Full Tank Shutoff |  Standard |
|  Electric Full Tank Shutoff |  Standard |
|  Tank Lift Type |  Dual Cyl |
Vacuum
| | |
| --- | --- |
|  Type of Filters |  2 Washable Micron Poly |
|  Cyclonic Filtration System |  Custom Dual 17″ x 55″ (43.2 cm x 139.7 cm) Cyclones |
|  Boom Tool Length |  3′ – 5′ (.9 m – 1.5 m) |
|  Hose Diameter |  6″ (15.2 cm) |
|  Vacuum Mercury |  18″ of hg (.6 bar) |
|  Vacuum cfm |  3,500 "free air" cfm (99.1 m3/min) |
|  Blower Silencer |  18″ x 6″ (45.7 cm x 1.8 m) Critical Grade Silencer |
| | |
Control Panel
| | |
| --- | --- |
|  Gauges |  Electronic Display w/7″ (17.8 cm) LCD Screen |
Full Hydraulic Boom -Standard
| | |
| --- | --- |
|  Reach |  19′ (5.8 m) |
|  Movement |  270 Degree Rotation |
|  Remote Control |  Wireless |
Available Options
| | |
| --- | --- |
|  Hydraulic Rotation Boom |  Standard |
|  Hot Box Water Heater |  Yes |
| | |